Helen Paul inducted as Public Administration Fellow, Ambassador
---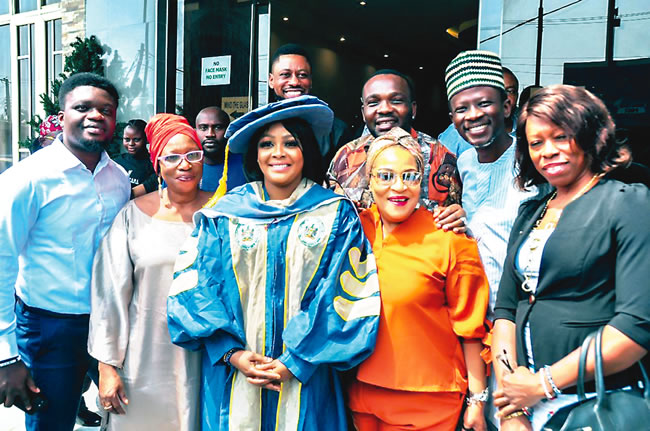 One of Nigeria's most respected artists, Dr. Helen Paul has been inducted as a Fellow of the prestigious Chartered Institute of Local Government and Public Administration of Nigeria.
The special investiture of Dr. Helen Paul took place on Wednesday, January 26.
The induction ceremony was conducted by Dr. Uche Okereke, Registrar of the institute on behalf of the grand head of the body, Prof. AM Awotoku.
Other representatives of the institute included Alhaja Yeye Mosunmola Johnson, Madame Kemi, Ms. Tinuola Mabuso – Secretary General and Prof. Segun Olabintan who read the quote from Dr. Helen Paul.
It was a landmark event attended by industry captains and eminent persons from all walks of life. There were representatives from the Nigerian Immigration Service, the Nigerian Customs Service and other parastatal government agencies.
Celebrities like Binta Ayo Mogaji, Ngozi Nwosu, Uti Nwachukwu, Yomi Fabiyi, Bunmi Davies, Rose Odika, Dupe Jaiyesimi, Ada Ameh, comedian Ashiri and a host of other artists were not left out.
According to Dr. Okereke, Dr. Helen Paul, FCPA will also serve as an Ambassador for the Chartered Institute of Local Government and Public Administration of Nigeria, a body founded in 1996 and chartered by Act No. 1 of Parliament, 2017.
"This institute has gone through the National Assembly, both the Senate and the House of Representatives, and the office of the President of the Federal Republic of Nigeria. Today, it is the only recognized professional body that practices local government and public administration in Nigeria," Dr Okereke said.
He added that the induction of Dr. Helen Paul as a member and ambassador of the institute was decided by the Board of the institute after careful monitoring of her academic progress and service to humanity.
Dr. Okereke explained that "the selection of Helen Paul was made by our Board after due consideration of her academic excellence. She has a master's degree in public administration, not just theater arts, which is her primary constituency. It has crept into public administration, and this is the first time that we have combined public administration with theater arts. We really want to experience how public administration and the theater arts can work together…that's why we're also making her our ambassador.
With her induction, Dr. Helen Paul joined other eminent Nigerians as Fellows of the Chartered Institute of Local Government and Public Administration of Nigeria.
The institute has about four sitting governors, two Supreme Court Justices, the former Governor of Lagos State and the Chairman of the NDLEA, among other members.