Driving change across the public sector
---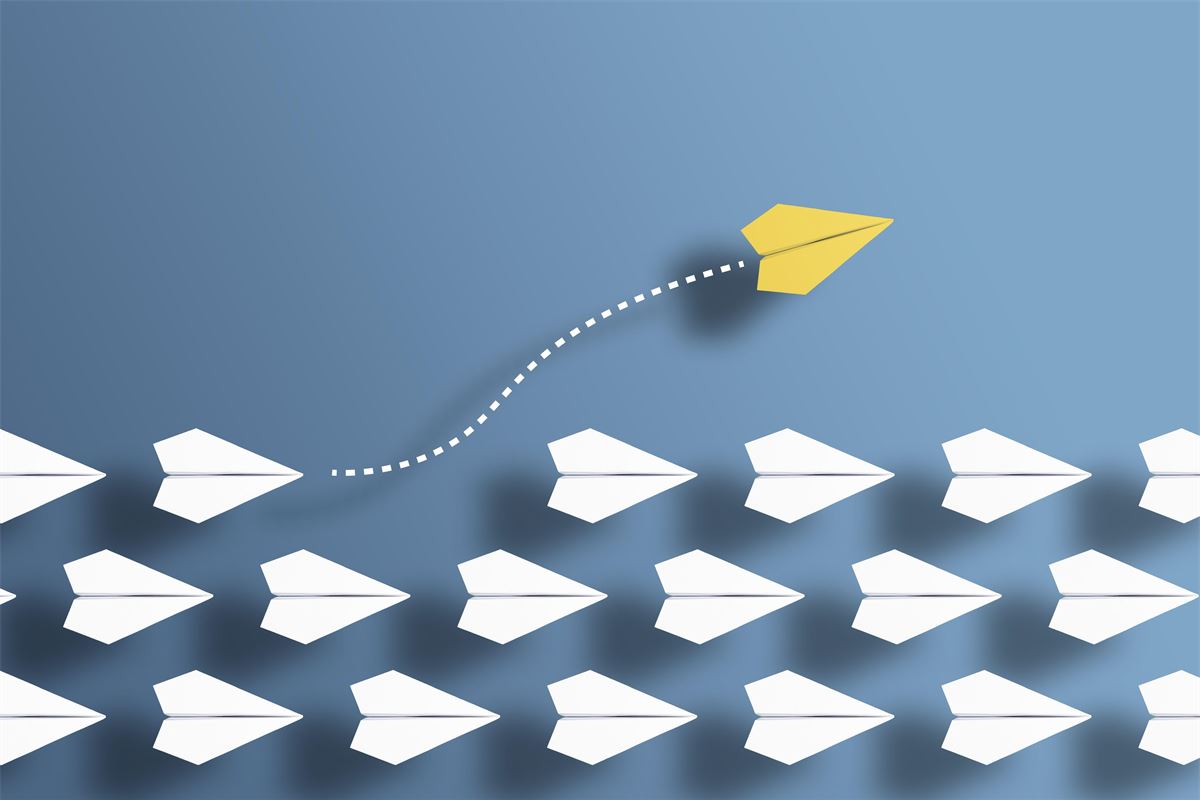 Good intentions, embodied in a new strategy or in the design of a new operating model, will not get you far. To take full advantage of it, mindsets and behaviors – the way people think and act every day – must change. Buying a gym membership doesn't get you in shape; the habit of exercise does. In the corporate world, only 12% of change initiatives achieve what they set out to accomplish, and 20% largely fail, capturing
an IfG report revealed that 35% of GMPPs are "impractical" or "in doubt"
.
The troubling implication: Over time, too many organizations unwittingly end up accepting poor performance at best. As Whitehall prepares for the next wave of change, it is essential that we do a better job of making the change happen.
Change is difficult, especially in government where, despite recent improvements, many senior officials have limited operational or delivery experience. Even in the private sector, leaders often have blind spots that can fatally undermine a program. The most common ? The lack of a coherent and aligned vision throughout the organization of what is being achieved; line management does not prioritize change or resist transversal change "not invented here"; contradictory initiatives; and different parts of the organization being called upon to make too many changes with insufficient attention given to the specific leadership and frontline behaviors necessary for the change to endure.
In successful programs, leaders anticipate and overcome these blind spots. When we talk to senior leaders about how to drive successful change, we ask three simple questions: the "what, who and how".
The what
A clear strategy is essential, but change most often fails in implementation. This is the behavioral dimension that organizations tend to overlook. To motivate large-scale organizational change, leaders need to ask themselves, "What's our range?" And "What will make our needle move?"
Our beach? When planning a vacation, you get excited imagining yourself on the beach, not reading an itinerary. Yet, when embarking on a program, leaders often take more care in developing and communicating the details of the trip than a compelling vision of the destination. Effective change requires a picture of what we are trying to accomplish, leaders who can inspire people and provide those involved in the change with an internal compass to align their subsequent behaviors, decisions and actions.
But the beach alone is not enough to change behavior. Successful Programs Remember that organizations don't change, people do. Only very few behaviors produce the lion's share of the results. These behaviors should be concrete and cover "moments of truth" relevant to the front line: how an agent handles a customer call or how a supervisor handles a politically sensitive incident. Generic statements such as "We will be more customer centric" are not actionable. Leaders need to figure out exactly what frontline employees and management need to do differently at these times, and how to reinforce those behaviors. The overwhelming majority of research shows that reinforcement in the moment is essential to sustaining new behaviors. At HMRC, we've helped technology leaders align with five values ​​and behaviors essential to changing organizational ethics. These were communicated to town halls and cascaded by leaders at all levels, then reinforced in moments of truth. A system of metrics and feedback has been put in place to track and celebrate progress.
WHO
Who is making a difference? While project teams are essential, they can often disconnect from the front line making the real change. To address this, it is essential to identify who, on the front line, is most affected by the change, and how the organization can support them. This raises two questions: "Who is our backbone? and "Who is our coach? "
The responsibility for delivering results rests with thousands of line workers and their supervisors, and it can be done only by a program office, regardless of its size. It is therefore essential to identify the people who will have to work differently. And who has the greatest influence over them? Most often their direct supervisor. Change efforts depend on a strong "sponsorship backbone": true leaders who can place change efforts in the context of their teams' day-to-day work. It can cause changes even in the most difficult environments. Gold Fields, a South African miner, had to stabilize the decline in production as its mines neared the end of their life by instilling better working methods. They turned to the backbone of sponsorship, establishing a monthly training rhythm that spread through the mine hierarchy to inspire 30,000 employees working two miles underground. It matched the pace of change with each mine's ability to embrace new ideas, and the ideas took root because they were promoted by experienced mining officers who had credibility with their teams.
But even great leaders can struggle to manage change. This highlights the need for effective coaching. An enhanced program office — what we call a Results Delivery Office® (RDO) can play this role. The RDO serves as the custodian of the overall program, ensuring that it achieves the desired results. He can assess risks, monitor progress against goals, and put in place the interventions necessary to ensure success. The RDO should also provide support to the spine. Where appropriate, this can take the form of "hard love" action, including giving feedback and advice to line managers or recommending changes to the team when it is really needed.
the how
The pace and scale of a change program cannot exceed the ability of colleagues to manage it along with their other responsibilities. So ask "How much more can our sponge absorb?" "
An organization's ability to manage change can easily be overwhelmed. What may seem from above to be a logical sequence of initiatives may seem very different from a frontline person being asked to engage in multiple initiatives at once while carrying on business as a business. habit. Like a water-absorbent sponge, people can only absorb a limited amount; adding new initiatives can exhaust or demoralize employees. The way to avoid this is to identify the people most affected by a change and chronicle what the company has asked them to do outside of their normal job. By mapping these activities, you can anticipate when people will be overworked, and then actively stop or delay lower priority initiatives.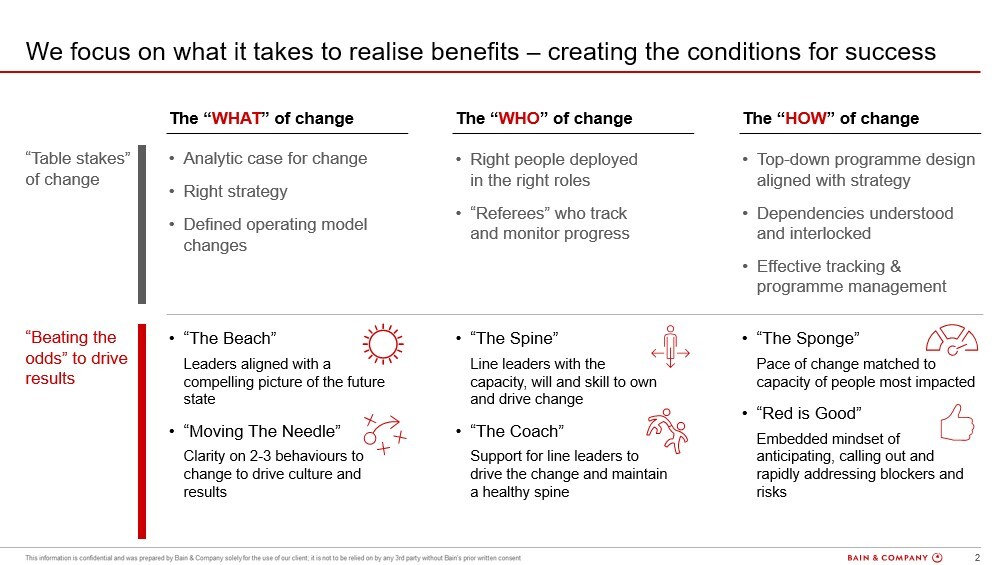 Make change happen
Leaders steeped in change know that grassroots PMOs don't work. Too often, they spend their time "coloring" – questioning programs about their status and consolidating responses. Results delivery offices, on the other hand, really understand progress, interview and coach PMs / PDs, reassess whether programs are on track to meet goals, and support or intervene as needed. An RDO maintains a "red is good" posture, recognizing individual risks that arise so they can be resolved quickly.
Subash Viroomal is a partner based in the London office of Bain & Company. He is a leader of the Public Sector and Government Cabinet practice and has extensive experience in implementing change at Whitehall.
To learn more about how Bain & Company can help you, visit www.bain.com/change-power