A former public administration named student of the year
---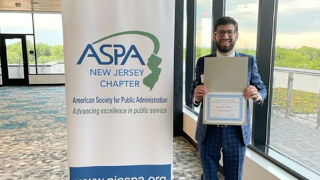 Joseph Pastino '12/MPA '22, was recently named Public Administration Student of the Year by the New Jersey Chapter of the American Society for Public Administration (NJ ASPA). ASPA is one of the leading public service organizations advancing the art, science, education, and practice of public and nonprofit administration.
Just days before graduating, the Master of Public Administration (MPA) student was honored as one of six students recognized at the annual NJ ASPA Awards Ceremony which was held on Wednesday May 18. The distinction is earned by students who have excelled in public administration studies and become effective leaders at New Jersey universities and become effective leaders.
"We are honored that the New Jersey Chapter has selected Joseph as one of its Public Administration Students of the Year. In addition to academic excellence, Joseph has exemplified his commitment to serving others through his work at Seton Hall and in the local community," said Roseanne Mirabella, professor in the Department of Political Science and Public Affairs and program director of the MPA program.
As a graduate student, Pastino supported the University's Center for Research and Community Engagement with grant writing, program implementation and policy development as well as local community efforts like the program of Social Justice Certificate, a collaboration between the Center, South Orange Community Care and Justice. program and the Newark Office of Violence Prevention and Trauma Recovery.
In addition to his pro bono work in public administration, Pastino has also collaborated with professors from the College of Arts and Sciences in developing a curriculum for a PolicyLab delivered jointly between public administration and the curriculum. African.
Seton Hall's MPA degree is for students interested in careers in the public and nonprofit sectors. Ranked as the best program for nonprofit management by US News and World Report, the program is accredited by NASPAA and offers concentrations in Health Policy and Management; management of non-profit organizations; Public service: leadership, governance and policies; and data visualization and analysis.
For more information on the MPA program, please contact Associate Dean Michael Dooney or Program Director Roseanne Mirabella.